About BMW 2-series Gran Coupe
The 2-series Gran Coupe is the newest model freshly arrived in the BMW lineup. It is a four-door sedan. Gran Coupe rides on a similar platform as the X1 and X2 subcompact SUVs, a less performance-oriented platform.  With its exceptional luxury offerings, Gran Coupe is all set to compete against Mercedes-Benz's new A-class sedan and Audi's A3 four-door. The 228i xDrive (with 228 hp) and the 301-hp, M235i xDrive makes use of a turbo four-cylinder engine and also an eight-speed automatic transmission. Its all-wheel drive is standard. As is the forward collision warning (FCW), automatic emergency braking (AEB). It comes with pedestrian detection, and a blind-spot warning (BSW).
As far as the size is concerned, this new model is a couple of inches longer in size than the two-door BMW 2 Series. And about 7.5 inches shorter than the BMW 3 Series.
Also See – Flexible-Fuel Vehicles which are Worth buying
Monetary Value of the Model
The BMW 2 series Gran Coupe is more expensive than the Mercedes A-Class and the Audi A3. The difference in the price is in a few thousand dollars. However, it is almost similar to the value of the CLA.
It ranges from $37,500 to $45,500
Do Checkout – BEST USED CARS UNDER $10000
Pros and Cons
Check out of the pros and cons of this BMW model.
Pros
Strong base engine performance
Same technology as that in the higher models
Comfort while riding with its athletic handling
Standard all-wheel drive
Generous cargo capacity
Cons
Its back seat lacks headroom making it really uncomfortable for taller passengers
Features & Specifications
228i xDrive 4dr Sedan AWD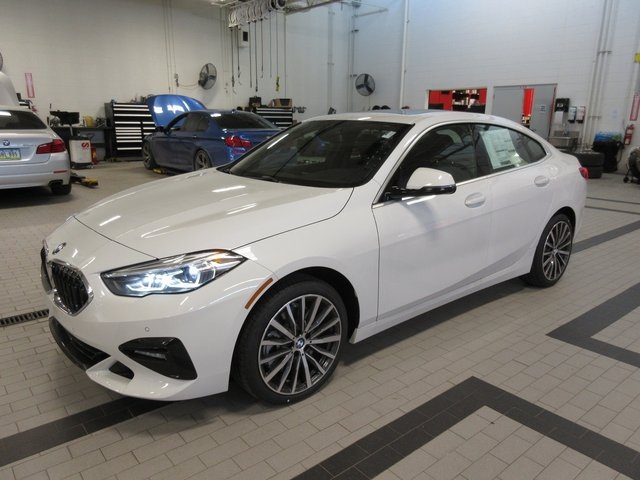 Features & Specifications
| | | |
| --- | --- | --- |
| Engine Type | Gas | |
| Transmission | 8-speed shiftable automatic | |
| Drive Type | All wheel drive | |
| Cylinders | Inline 4 | |
| Combined MPG | 27 | |
| Total Seating | 5 | |
| Basic Warranty | 4 yr./ 50000 mi. | |
M235i xDrive 4dr Sedan AWD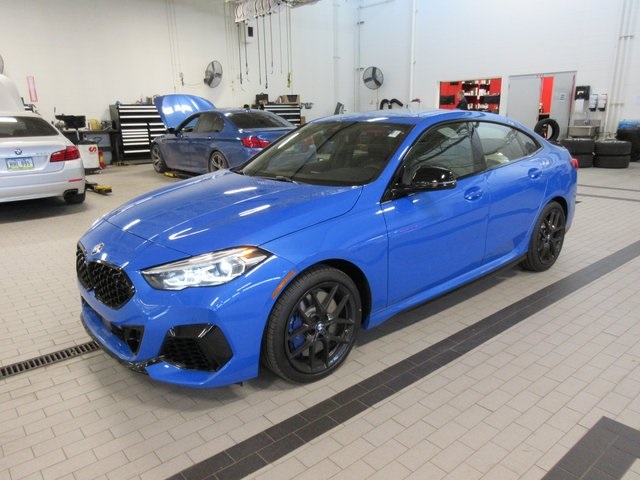 Features & Specifications
| | | |
| --- | --- | --- |
| Engine Type | Gas | |
| Transmission | 8-speed shiftable automatic | |
| Drive Type | All wheel drive | |
| Cylinders | Inline 4 | |
| Combined MPG | 26 | |
| Total Seating | 5 | |
| Basic Warranty | 4 yr./ 50000 mi. | |
Overall Appearance and New Features
The BMW 2 Series Gran Coupe has very little resemblance with the 2 Series Coupe and shares the majority of its genetic material with the BMW 1 Series hatchback. This exotic new model is a transverse-engined and front-wheel drive BMW. It comes with a similar suspension and dash as in the BMW 1 Series. Owing to its luxuries features, it's surely going to be a rival to the Mercedes CLA.
As far as the new advanced features added to the model is concerned, the inside furniture is similar to that of the 1 Series. However, the outside look is all-new and attractive enough to gain the attention of big car enthusiasts. This BMW model has a big-grille face, with an angled-back headlight pair. Moreover, the frameless door design allows a lower roof to the model, with clean-looking apertures.
Talking about the side profile of the model, it is more or less the same as the feature lines in the 8 Gran Coupe. But to the surprise of the consumers, while 8 Garn Coupe appeared bony with these lines, this new model has flabbier surfaces making the lines fade into the background. This gives it a chubby look.
It also comes with modern safety tech items including adaptive cruise control, forward collision warning and mitigation, and also blind-spot monitoring. It's definitely a strong rival to its competitors in the run – Audi (the A3) and Mercedes-Benz (the A-Class and CLA).
How the Interior Looks Like
The faster rake of the model's A-pillars will let you feel comfortably cocooned inside. Unlike most of the other BMW's touchscreen, this one comes with a number of hard keys laid all over the dash and also around the i-Drive wheel as well. These buttons make the cabin design look very busy.
The model's infotainment system comes as a standard one, including the Apple CarPlay smartphone integration with wireless connectivity. This enables you to bring up the interface on screen without any USB connectivity. This BMW 2 Series Gran Coupe will be lacking Android Auto. However BMW has reportedly said that it'll be adding it to its future cars upcoming in the late 2020.
The BMW 2 series Gran Coupe sedan is rear-seat space, making it significantly different from the 2 series. Adding to that, this Gran Coupe has enough space for three rear passengers, unlike others with space for only two. It provides remarkably large adult-size legroom in its rear outboard spots. Talking about the headroom, it will suffice for the passengers who are 5 feet 9 inches and shorter. Leaving aside all this, it is definitely a strong competitor to its rivals.
How Its Ride Feels Like
The model's range is simple as it is 218i, a three-cylinder with a manual. It is a front-driver with auto. The BMW 2 Series Gran Coupe uses the exact same the driving position and dash as in the BMW 1 Series – a quite blocky and an upright edifice.
You can enjoy elevating the 228i up to highway velocities smoothly. With relatively smaller footprints, it becomes easy to ride in thin spaces. This makes it ideally suited to the narrow, and twisting country roads. The well-tuned suspension allows it to swiftly travel along the edges and curves. This model beautifully absorbs all road imperfections giving you a very comfortable and composed driving experience.
The M235i is ideal for all the sports enthusiasts out there. It is undoubtedly, a perfect match, with its suspension tweaks and power. A must have for a high spirit ride. With its significantly louder and burlier engine, and also the exhaust noises will surely grab a special place in the hearts of all sport enthusiasts. Aggressive and quick shifts is what makes this BMW model high on demand.
It is significantly much advantageous and smoother over its 228i and the Mercedes and Audi rivals.
Also See – Three Car Options That Make Sense
---